Frequently asked questions
>> Go to Official ddownload Website
Updated on: 08.11.2021
WHAT IS DDOWNLOAD?
ddownload is a file hosting provider. We offer online storage/remote backup capacity, advanced upload and download tools.
With ddownload you can host files, pictures, videos, audio and flash at the same place.
WHY SHOULD I USE DDOWNLOAD?
Whenever you need to send a file that is too large for e-mail, ddownload can help. If you need secure remote storage capacity for off-site backups, ddownload offers solutions for you. If you want to access personal data from different computers and do not want to carry a USB stick around with you, ddownload is a perfect way to do so.
CAN I SEARCH FOR FILES THAT OTHER PEOPLE HAVE UPLOADED?
No, because not everyone wants to share their uploaded files with others. This way ddownload can be used to share files with any user, but also to keep them for yourself as a backup or to download them from anywhere in the world.
WHAT KIND OF FILES CAN BE UPLOADED?
All kinds: from your party photos to an important document. The only restrictions apply to pornography, nudity, sexual images and any kind of offensive material, and of course to copyrighted material.Weitere Informationen zu den Nutzungsbedingungen von ddownload finden Sie in unseren TOS.
HOW DO I DELETE A FILE I HAVE UPLOADED?
To delete a file you uploaded, you must use the delete link provided after the upload process.
If you have lost your deletion code, you can simply wait until the file expires to have it automatically removed from our website.
CAN I HOTLINK THE FILES I UPLOADED?
No. Hotlinking is not allowed for any kind of files uploaded to our servers.
I STILL HAVE QUESTIONS, WHAT SHOULD I DO?
If you have any questions about our services, please do not hesitate to contact us via our contact form.
>> Go to Official ddownload Website
download prices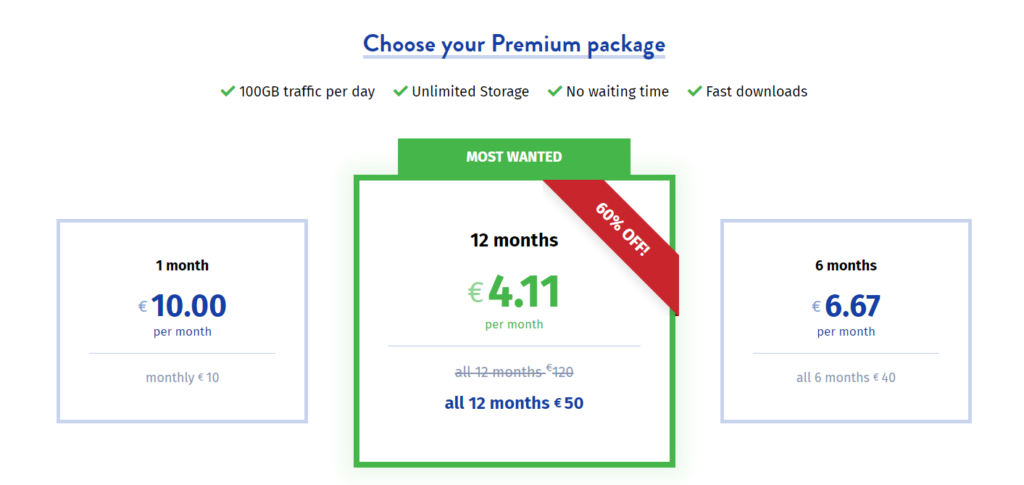 | | | |
| --- | --- | --- |
| Term | Price | Price per month |
| 1 month | 10€ | 10€ |
| 6 months | 40€ | 6,67€ |
| 12 months | 50€* | 4,11€ |
*60% Rabatt
The changeover to the Euro currency
JULY 2020
Dear users of DDownload,
After economic reasons and two months of testing and discussions in the whole team of Unlimited Network Limited we decided to change the prices from US Dollar to Euro.
Why did we come to this decision?
We made this decision due to numerous inquiries and uncertainties about payment options, payouts as well as economic and infrastructural reasons.
Our infrastructure, in some cases almost 40% even today, is connected to networks that are better connected to Asia. For this reason there are still users from Europe, especially from Germany, that connections are not 100% guaranteed, as some people imagine. Our service has been in existence for more than four years, and our service has been established and expanded in the Asia region. Last year in the first quarter, we had a user count of 70% Asia. Investments have been focused on Asia, and our core business has been only the user base.
At the end of 2019 we had a boom from Europe that turned things upside down. The number of users increased by almost 70% and we had to upgrade the infrastructure month after month.
However, the infrastructure of DDownload is not yet 100% complete. In order to realize this on the right way, we had to change our currency from Dollar to Euro. Due to the minimal price difference between Euro and Dollar there is a small inflation.
With this decision we are able to expand our infrastructure and offer you a service that will satisfy you for years to come.
What about the payouts?
You will still receive your payouts in crypto-currencies. This change will also allow you to earn more than before. The current payout amounts will also give you a small boost due to the currency conversion.
If you have server problems or speed fluctuations, please visit our support center before tickets are written. support.ddownload
Technical problems are usually communicated in our support center.
>> Go to Official ddownload Website