Frequently asked questions
>> Go to Official ddownload Website
Updated on: 09.03.2022
WHAT IS DDOWNLOAD?
ddownload is a file hosting provider. We offer online storage/remote backup capacity, advanced upload and download tools.
With ddownload you can host files, pictures, videos, audio and flash at the same place.
WHY SHOULD I USE DDOWNLOAD?
Whenever you need to send a file that is too large for e-mail, ddownload can help. If you need secure remote storage capacity for off-site backups, ddownload offers solutions for you. If you want to access personal data from different computers and do not want to carry a USB stick around with you, ddownload is a perfect way to do so.
CAN I SEARCH FOR FILES THAT OTHER PEOPLE HAVE UPLOADED?
No, because not everyone wants to share their uploaded files with others. This way ddownload can be used to share files with any user, but also to keep them for yourself as a backup or to download them from anywhere in the world.
WHAT KIND OF FILES CAN BE UPLOADED?
All kinds: from your party photos to an important document. The only restrictions apply to pornography, nudity, sexual images and any kind of offensive material, and of course to copyrighted material.Weitere Informationen zu den Nutzungsbedingungen von ddownload finden Sie in unseren TOS.
HOW DO I DELETE A FILE I HAVE UPLOADED?
To delete a file you uploaded, you must use the delete link provided after the upload process.
If you have lost your deletion code, you can simply wait until the file expires to have it automatically removed from our website.
CAN I HOTLINK THE FILES I UPLOADED?
No. Hotlinking is not allowed for any kind of files uploaded to our servers.
I STILL HAVE QUESTIONS, WHAT SHOULD I DO?
If you have any questions about our services, please do not hesitate to contact us via our contact form.
>> Go to Official ddownload Website
Ddownload prices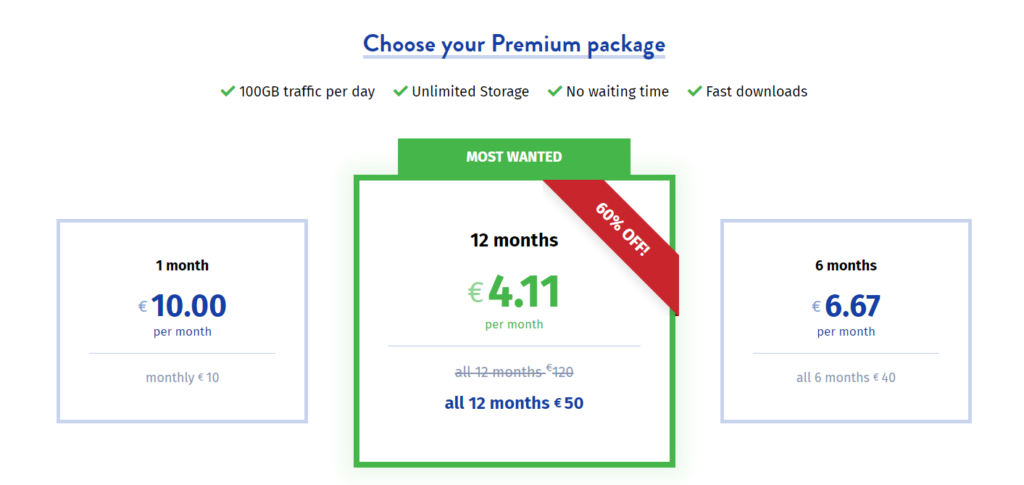 | | | |
| --- | --- | --- |
| Term | Price | Price per month |
| 1 month | 10€ | 10€ |
| 6 months | 40€ | 6,67€ |
| 12 months | 50€* | 4,11€ |
*60% Rabatt
Latest News
Planned emergency maintenance: the AMS-01 Core Router
02 NOVEMBER, 2021
As part of our efforts to continuously improve service levels, we would like to inform you about an emergency maintenance that will take place on November 04, 2021.
One of the core routers in the AMS-01 data center in the Netherlands will correct increased memory usage of the backup routing engine.
When will the maintenance take place?
Date: 04 November 2021
Time: 01:00 UTC+01:00 – 06:00 UTC+01:00
After the emergency maintenance is completed, the network will be monitored to ensure that it is functioning normally.
Download Rewards Changes
18 FEBRUARY, 2021
Dear user,
Due to the high abuse of free downloads, it has been decided to switch to premium downloads starting Friday, 19 February 2021.
This means that only downloads from premium users will be rewarded. There will be no more free downloads. We have a very high bot volume that many affiliate users take advantage of to make money. Therefore, we need to take these measures to cover our costs as much as possible.
For this reason, in the next week we will change our logic for rewarding sales to make sure that all VPN sales will be paid correctly in the future without being marked as fraudulent. Therefore, your chances of earning revenue with Pay-Per-Sale are much higher than usual.
Thank you for your understanding.
Increase of the minimum payment to EUR 50
17 FEBRUARY, 2021
Due to the high Bitcoin fees, the minimum payment has been increased from 10 EUR to 50 EUR. We had to take this measure temporarily because 90% of our Bitcoin partners are Bitcoin partners.
The payouts are made in connection with larger networks. For each transaction, the payout company charges a fee of 3-5 euros, and we ourselves also very often pay a fee for the bitcoins we accept.
Currently, the fees are so high that we are forced to take this step to avoid high costs.
Speed deficiencies in December 2020.
10 DECEMBER, 2020
Dear users,
The situation in Corona has been relatively difficult for us this year. Already in March and April this year there were major disruptions in our network, and now again in December 2020, when all closure measures were taken in several countries.
We are currently throttling the download speed per file to limit the download speed and keep the entire cluster network as stable as possible.
With thousands of users currently active, some servers are still hitting their speed limits.
We hope for your understanding and hope to keep you as a customer. If you would like a refund for these issues, please create a support ticket to receive your refund.
Maintenance work on the NL2 network.
24 SEPTEMBER, 2020
Dear users,
On Monday, 28.09.2020, Amsterdam time UTC+2, maintenance work will be performed tomorrow morning. This maintenance work may result in the website being restricted or inaccessible for a few hours.
After the maintenance work, the website will function as usual again.
Maintenance work on the GLNL/2 network.
15 SEPTEMBER, 2020
Urgent maintenance is scheduled for Sept. 15, 2020. There may be some restrictions on services.
The affected services are within the GLNL/2 to UCDN network from www500 to www550. The services may be subject to speed restrictions.
The changeover to the Euro currency
16 JULY,2020
Dear DDownload users.
For economic reasons and after two months of testing and discussions in Unlimited Network Limited team, we have decided to change our prices from USD to EUR.
Why did we make this decision?
This decision was made due to a number of issues and uncertainties related to payment methods, payout, economic and infrastructure reasons.
Nearly 40% of our infrastructure is connected, in some cases already today, to networks with good connections to Asia. Therefore, the connection for users from Europe, especially from Germany, is still not 100% guaranteed, as some may think. Our service has been around for more than four years, and we created and developed it in Asia. In the first quarter of last year, 70% of our users were in Asia. Our investments were focused on Asia, and our core business was just user numbers.
Then, at the end of 2019, there was a boom from Europe and the situation changed. The number of users increased by almost 70% and we had to upgrade our infrastructure. We update it every month.
However, DDownload's infrastructure is not 100% ready yet. To make it work, we had to change our currency from dollars to euros. The price difference between the euro and the dollar is almost negligible, which leads to a slight inflation.
This decision has allowed us to expand our infrastructure and provide a service that will satisfy our customers for years to come.
What will happen to payments?
Cryptocurrency payments will continue. With this change, you will earn more than before. Also, the current payout amount will give you a small premium for currency conversion.
In case of server problems or speed fluctuations, please visit the support center before writing a ticket support.ddownload.com.
The support center mainly provides information about technical issues.
Maintenance work on the GLNL network.
27 JUNE, 2020
Emergency maintenance work is taking place on the GLNL network. Speed restrictions may apply during calendar weeks 27 and 28. Users in Germany are asked to refrain from using the network during rush hour during this period. If you experience significant restrictions, please contact us.
This maintenance is necessary to improve all upload and download services. Due to upload issues currently affecting this network, we have received several reports.
Our GLNL network is not directly contracted with Deutsche Telekom or any other network. As a result, speed restrictions may occur. Networks in other countries are not affected.
Planned maintenance work on the GLNL network.
18 JUNE, 2020
This Thursday, 18.06.2020 local time, we are performing important maintenance on our storage servers in Amsterdam, the Netherlands.
Hardware will be replaced and upgraded to improve performance. It is expected that there will be an interruption of up to one hour. In the event of an outage, you will be notified via a message.
In addition, some services are expected to be unavailable for one to two hours in the afternoon.
Status of COVID-19.
20 MARCH, 2020
As mentioned in the External Support section, it is currently not possible to open or respond to requests. The reason for this is that a state of emergency has been imposed in Lithuania. All support staff are guest workers in Lithuania, which makes a home office impossible.
The support department employees were called back to their home country and had to leave within a week, as they were only temporarily employed.
Due to the infrastructure in the office, external support is not possible at the moment. In case of emergency we can reach you via our internal contact form Imprint.
Thank you for your understanding.
CDN 102, 112 dropouts.
15 MARCH, 2020
Currently www102 and www112 are experiencing connectivity issues on our network. We are working on a solution as soon as possible. Thank you for your understanding.
Connectivity/speed issues
08 MARCH, 2020
We are currently experiencing technical issues with our new network. Since only 50% of our new hardware has been delivered, it has been more than a month until the rest of the hardware arrives. Currently we have unlocked the old network, which is causing problems for German users. This is only a temporary solution until the new hardware arrives.
We will keep you updated until the new network with upgraded hardware is released this week.
We have received massive support requests and have found that more than 80% of the requests are not necessary. Since our support system was overloaded, we have currently put the system into maintenance mode until all requests are processed.
We thank you for your loyalty and apologize for the inconvenience.
Changes in service providers
22 JANUARY, 2020
To respect the wishes of our customers, we have decided to change our service provider in the near future. In order to make the change smoothly, we will start installing the first servers in the next few weeks to give you better download times.
Why do downloads take so long?
Not all users are affected. Only a quarter of Premium users are experiencing download speed issues. In some countries and regions, this is due to the fact that the peering network is not connected to different operators. A good example is Deutsche Telekom, which charges horrendous fees for its peering network. Sometimes they charge up to eight times more than other providers. Our providers simply don't want to pay these prices because they are not profitable.
We have therefore found a new provider and will fix this problem shortly. We apologize for the inconvenience caused.
CDN 59 dropouts and slow loading times.
20 JANUARY, 2020
The cdn59 server is currently experiencing dropouts and technical issues that are slowing down download times and reducing download speeds from 20 kb to 50 kb.
We are working to resolve the issue. We apologize for the inconvenience caused.
Call for collaboration to test bandwidth.
14 JANUARY, 2020
Please help us test our new server. Please let us know your download speed, location, and network connection bandwidth in the comments.
Complaints about testing?
Most speeds are satisfactory, but there are times (1-3 hours on weekdays, more on weekends) when our ISP performance drops significantly. We will monitor the situation and if the problem is not resolved in the near future, we will look for another provider.
15 DECEMBER, 2019
Database maintenance is scheduled for this week. In week 51, the website will be in maintenance mode for a few hours to avoid data loss. We thank you for your understanding.
In week 51, we will increase the available network throughput per rack to further improve download speeds during peak hours – this time without any downtime. The speed is with you!
Paysafecard and Paypal
20 NOVEMBER, 2019
We have received a number of emails related to payment methods on various occasions. We have also considered your emails and presented them here.
This week, credit card was introduced as a direct payment method. And Paysafecard and Paypal will be introduced soon. I can't tell you about the fees yet, but I can assure you that there will be no more Paysafecard and Paypal resellers. However, Paysafecard and Paypal resellers will not disappear.
We will keep you updated with the latest information.
DDL Maintenance Notice
27 OCTOBER, 2019
As some of you may have noticed, some premium servers are at full capacity. To enable smooth downloads, we will be upgrading these servers.
The following updates are in the pipeline:
Advertising banners will be available soon.
A completely new DDL design will be available.
New servers will be introduced.
The pay-per-sale system will be expanded.
Payment options will be extended.
You can contact us by e-mail at any time. We usually reply within 24 hours, maximum 48 hours. We will keep you updated with the latest information.
>> Go to Official ddownload Website